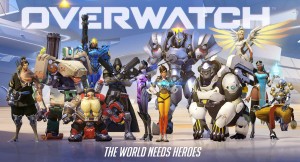 Pop Quiz. When's the last time Blizzard released a new franchise? If you said 17 years then you either know way to much about Blizzard or have obviously been reading all about the new game they announced today, Overwatch. It doesn't seem like that long but I guess if you don't consider Starcraft Ghost a new franchise then it makes sense. Blizzard does after all make a company like Nintendo look like it has tons of different franchises.
The game does look interesting though and since it's going to be a new genre for a company like Blizzard as a first person shooter, I am interested to see what they do with it. The little bit of game play that I've been able to check out reminds me loosely of Team Fortress 2. Which if it turns out to be true would make me pretty happy. The game takes a pretty original turn to start things off by taking place in the future.  Not like that's been done before.
Ok maybe not a completely fair comparison, and future settings do lend themselves pretty well since you get more freedoms in your gun designs and levels.  The rest of the small bit I've managed to find looks decent so far.  Small 6v6 battles, different classes to choose from including a big slow gorilla and a fast blinking around woman.  If you squint they might even look like a Heavy and a Scout.  Not really to much else I can say about this for now since I don't really know anything about the game but we can always hope that it turns out better then Ghost did.  They're planning for a beta in early 2015 so maybe we'll get lucky and get a chance to try it then.
Oh and before I forget.  To any news sites that want to write about game announcements, please make sure your writers know something about games when they write about them.  Trying to say that Overwatch is "similar in some respects to multiplayer online battle arena (MOBA) games including League of Legends and DOTA" just makes you look silly.  Unless there are npc minions that roam around the map in lanes, each team has a base they need to defend, and there are levels and item upgrades to purchase; there is no way you could possibly say the game is like those.  I guess that's what I get for clicking the link to a normal news site.