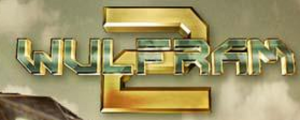 I know most of you have probably never heard of this game.  It was old when I played it back in the early 2000's and has been completely shut down for a few years now.  It's still one of my favorite games I've ever played and also was one of the early games in my competitive journeys.  That game of course was Wulfram 2.  Today while I was bored at work while browsing the internet instead of doing any actual work I was able to stumble across a new site for a new version, Wulfram 3.
What is it?
Wulfram 2 was a hybrid rts/fps tank game where you would be split into two teams to fight over control of a map.  One player on each team would be able to pick up a link to be a commander and order parts from ships to build bases and defenses not unlike newer games like Natural Selection 2.  The main difference here though is the maps are much more open and both teams consisted of the same units and buildings to provide a completely level playing field.  The people playing as the fps soldiers would be able to pick between a beefy tank and a nimble scout.
The goal of the game was to kill the other team.  In order to do that though, you had to first make it so they could no longer respawn by destroying their spawn pads located throughout the map.  Another unique part to the game was that buildings came down from ships in cargo crates, and both cargo crates and the command link itself could be stolen by sneaky players.  That was pretty much the entire game and as simple as it might sound, it provided a surprising amount of depth and teamwork to the game.
The good ol' days
The game had a weird way of splitting people up to try to make the game fair.  There were 11 levels you could get in the game which decided what servers you could play on.  Trainers would go into the lower level servers and help the new people get familiar with the game and test the people to make sure they were ready to move up into the next server.   I still remember the first time I logged in, had no idea what I was doing and was getting destroyed the these people with [TRN] in their name.  Of course little did I know at the time they were holding back and doing just enough to point me in the right direction to figure out what I needed to do.
After moving up to the max level, I thought it would be loads of fun to go back and give back to the community by helping the new people like the [TRN] of old had helped me.  That time helping people brand new to the game was one of the most fun experiences I ever had in a game outside of competitive game.
Of course I wouldn't have stuck with the game for very long at all if there wasn't a competitive side.  Sure it might have been a little primitive with needing to schedule matches and only having two servers to use for matches, but it was still a ton of fun.  I was also lucky enough to play for two of the best teams in the game in Tactical and Genesis.  So many fond memories in that game that I can't even list them all.
It's still super early in the development but I'm very hopeful that they are able to get something going in it.  I would love to see the game again with an updated engine and new player base.  I'm also sure that I am not the only oldie out there that is hoping they pull through.  IYAIAFFYDNPIP!
---