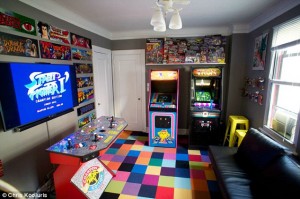 Growing up, the one thing I wish I always had in my house was a personal arcade.  Sure we had our Nintendo or Sega Genesis but that just couldn't compare to the fun of going into an arcade and playing all the cool games you could only find in arcades.  Even today when I go down to the beach, one of the things I enjoy the most is going to the boardwalk and spending some time in the giant arcades that are still there.  That's why it brought a huge smile to my face reading this story about a man who turned his one bedroom apartment in New York into his own personal arcade.
Sure he might have lost his fiancé in the process and it cost him a little over $26,000 to build, but you just have to admire a guy following his dreams.  And when he does find that perfect gamer girl that we all dream of, he already has the perfect place to bring her back to.  I guess he really has his old fiancé to thank for this, since I can only imagine it all started when she wouldn't let him build his man cave.
What he got:
One custom built 4 player cabinet with thousands of MAME roms loaded
Arcade machines for  Ms. Pac-Man, Tron, Street Fighter, Punch-Out, and Fix-it Felix Jr
Futon with Teenage Mutant Ninja Turtles sheets
Street Fighter 2 action figures
This story made me remember that you should always follow your passions.  Now I just need to find the money to turn a few rooms of my place into a giant sloth cage and get my sloth buddy.
---