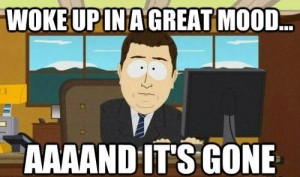 Well it went by faster than I thought it would, but the vacation is over and now we're back at it once again.  Of course now that we're back we will have to get back into the swing of writing these posts and streaming amazing games and with a short week before the holidays I'm sure we will have loads of fun again.  There will be plenty of time to go over all the random interesting things that I see every day so instead of going into that, lets get the quick hits of the vacation out of the way today.
World Cup madness:
Was a great time to take a week off from work since it was smack in the middle of group stages for the World Cup.  Tons of great games and a lot of surprising outcomes from the group stages, but getting to go to the bars for the last two USA games against Portugal and Germany were so much fun.  I was surprised how hard it was to find sweet USA swag in the stores at the beach, almost like the beach hates America.  Since we weren't able to get stupid crazy with full face paint, dyed hair, and flag capes (had this happened there would have been a picture for you all…Blame America hating beaches); instead we made up for it by getting crazy stupid drunk for the games.  The golden rule of not asking the price on the beer special bit us in the ass for one game when we ended up paying way to much for not enough beer, but the 50 jello shooters we had before the Germany game made up for it.  Overall loads of fun was had and I'm mostly sure the we remembered the entire game.
Did the dew:
The Dew Tour was in town the week I was down and as much as I didn't know anything that was going on, it was a lot of fun.  Extremely crowded which I don't care for, but watching all the skaters and bikers going around doing their things was pretty cool.  Outside of the actual dew tour action the best part of them being there was probably the beach concerts at night.  The music was decent enough but that isn't really why they were the best.  They were the best because they happened late enough that you could enjoy a nice evening at the bar drinking more then you should, and then go hang out on the beach and be stupid with a bunch of other people who are also being stupid while listening to good music.  It might not have been the amazing stuff on the stream playlist, but it was good enough to get stupid with.
Do you have an older sister?
I must have ended up saying that more times then I care to think about last week.  I don't know if it was my boyish good looks, my slothy attitude, or my extremely humble personality but there were so many girls coming up to me on the beaches.  Normally I'm not one to complain about things like that, but when you are over 10 years older then they are, then it becomes a little strange.  I think the saddest part was that no…they did not have an older sister.
The bad stuff:
Like everything not all was great.  Nobody likes bad stuff and this is already longer then I wanted so lets just get through this one quick
Why no Nintendo? For all the years that I've gone down to our condo, this was the first year that the Nintendo Entertainment System could not be found.  Was probably one of the saddest moments of my life when I realized I would have to go a week without any real games.
Waiters blow. Multiple nights when we went out to eat, we ended up waiting over an hour for food.  This wouldn't always be a problem except for the fact that while waiting the waiters did not come check if we needed more drinks which significantly cut back on the drink intake.
Arcades are expensive. It's been a while since I've been to an arcade, but man have they gotten expensive.  Everything is pretty much at least a dollar now and outside of better graphics aren't that much different then they were years ago.
---