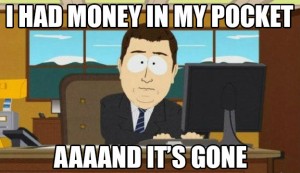 As you might have noticed from some of my comments before, I might have a bit of an issue when it comes to buying things that I really have no need to be buying.  If the steam sales aren't enough proof, I got some news for you today.  I got a new Nintendo Wii U last night so that I could play the new Super Smash Bros.
Let us go back to the beginning for a second on how this came to happen.  I was watching a stream one day of the new Smash and realized that it looked pretty cool.  I was somewhat sad that I didn't have a Wii U to be able to play the game, but wasn't interested enough to be bothered going and picking one up.  I had also heard they were much more expensive then the last few Nintendo systems.  Then we come to last night when I get home from work and realize that I have a giant wad of cash in my pocket.  Having cash on hand is probably the worst thing that can happen since it just sits there mocking you daring you to spend it on something you will never need.  Then I was at Wal-Mart with my roommate buying some food and we walked past the electronics section.  He stops in since he just bought a DS2 the day before to check them out.  At this point the money was practically screaming at me to spend it on something and really the only thing on my mind that day was Smash.  So we try to get a Wii-U at that point to appease the money gods.
Of course Wal-Mart doesn't have it, which normally would be a good thing since that means I didn't spend the money.  I think the money had somehow absorbed into my body at this point because the only thing we could think of was how the decision was already made to get a Wii-U.  So we drive down to GameStop just to buy this stupid console and spend this useless paper that was somehow still in my pocket.
The cash might have been gone, but the inner gamer in me took over at this point.  As I was sitting around today trying to finish up a bunch of stuff I had to do at work, I was thinking how dumb it was looking that my Wii had exactly one ipad shaped controller and one game.  What kind of self respecting gamer would I be if I let that stand.  A quick trip to Amazon fixed that issue with some additional controllers and useless games that will probably never get played arriving tomorrow…just in time for when my family comes down for Thanksgiving.
Hopefully the system will look much less lonely once those things arrive, and who knows maybe I'll break the trend and actually play a fighting games more then once this time.  I mean it has to happen eventually, right?  I wonder if this is what women go through when they start looking at clothes.